Pardon My Fro Fellowship
Win $10,000 For Your Business
Pardon My Fro is excited to present a fellowship offering to the community of Bethany Baptist Church / Bethany Nation.

Utilizing and sharing the success and knowledge of Pardon My Fro to lift up, guide, mentor and fund an entrepreneur's start up or existing Brooklyn brand to help get your brand to the next level of success. Fellowship finalists will receive $10,000 to be used towards their business and access to the Pardon My Fro business network.
DO YOU QUALIFY?
Qualifications
✔️ Must be 18+
✔️ Any Gender
✔️ Brooklyn resident only or your business is based out of Brooklyn, NY
✔️ No felony or misdemeanor criminal charges against you
✔️ Your business must be your full time job or half your time
✔️ No brand that promotes, or glorifies the use of any type of drug, or contends any type of degrading or demeaning sexual innuendos
APPLICATION
Ready to apply?
APPLICATION IS CLOSED AS OF MAY 1, 2023.
Please follow Pardon My Fro on Instagram or join our email list to stay up to date on fellowship announcements and new opportunities for involvement.
Program Overview
This opportunity will expose Brooklyn entrepreneurs to hands-on mentorship, marketing expertise, and project-based curriculum, to help build a pathway for brand success.
Advance in
Digital Marketing
Packaging and Design
Pricing and Finance
Brand Activations
Retail Relationships
Brand Management
Business Development
Inventory Forecasting
And so much more...
How To Get Ahead
✔️Business and Marketing Plan: Prepare a solid business and marketing plan that will take your idea to the next level, one which includes costs, sales forecasts, customers, your desired route to the market and other long-term goals.
✔️Marketing Opportunities: Be prepared to speak about market opportunity, competition, price points
✔️Sales Figures: For existing businesses your sales figures are a basic requirement for demonstrating business traction. And if you have a solid sales history, on Amazon or even your own website, that you can show, that there's a growing market for your product or service.
✔️Growth opportunities: Don't over-complicate things. Be honest and open about any areas of business that you may have and need help with.
✔️Vision and Commitment:
The important thing to remember is to stay committed, remain true to your business' vision.
HOW IT WORKS
Step 1: Application
Complete the application. Please allow up to 30 days for review.
Application Open: April 1, 2023
Application Close: April 30, 2023
Step 2: Sales Pitch
Once submitted, you will then be asked to submit a 10-minute sales pitch on your business and how this fellowship will help achieve your goal
Semi-Finalists Announced: May 15, 2023
Sales Pitch Due: June 1, 2023
Step 3: Brand Pitch
Once reviewed and chosen, you will be asked to present your brand pitch in front of a chosen group of business professionals.
Finalists Announced: June 30, 2023
Brand Pitch Due: July 2023
Step 4: Fellowship Finalists
The winner of the Fellowship will be awarded $10,000 to be utilized only for the benefit of their brand.
Fellowship Recipient Announced: August 2023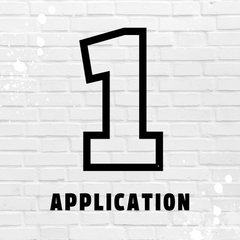 Frequently Asked Questions
Please email cp@hbeautygroup.com, mail@pardonmyfro, and info@mpocmarketing.com with any questions.

· $10,000 towards your business.
· Access to PMF'S team of business entrepreneurs from the creative/ branding department to the digital marketing team to help with any questions or concerns you may have regarding building out your build.

Please allow up to 30 days for application review.

Once submitted, you will then be asked to submit a 10-minute sales pitch on your business and how this fellowship will help achieve your goal
You do not! You need to be a Brooklyn based business to apply.

Please allow up to 30 days for your application to be reviewed by our teams.
OUR STORY
More About Pardon My Fro
Pardon My Fro™ is an exclusive lifestyle brand of clothing, accessories, and chic home decor crafted specifically for women proud of their hair and their heritage.
Dana started Pardon My Fro™ to celebrate women. The women in her designs—which she calls her dolls—represent living life on your own terms and doing it with remarkable style.

Her vision is to offer other women that are proud of their hair and their heritage, products they can literally see themselves in. 
OUR STORY
More About Bethany Baptist Church
The history-making Bethany Baptist church strives to engage in relevant ministry that empowers individuals and responds to the needs of the diverse community in which we live. Our mission is to offer Christ-centered fellowship and holistic ministry that meets the needs of the whole person: spiritually, mentally, and physically. We are a vibrant and relevant expression of the body of Christ. We are Bethany Nation!